Ātrie vārti RIPO Speed
Preces kods:
AVS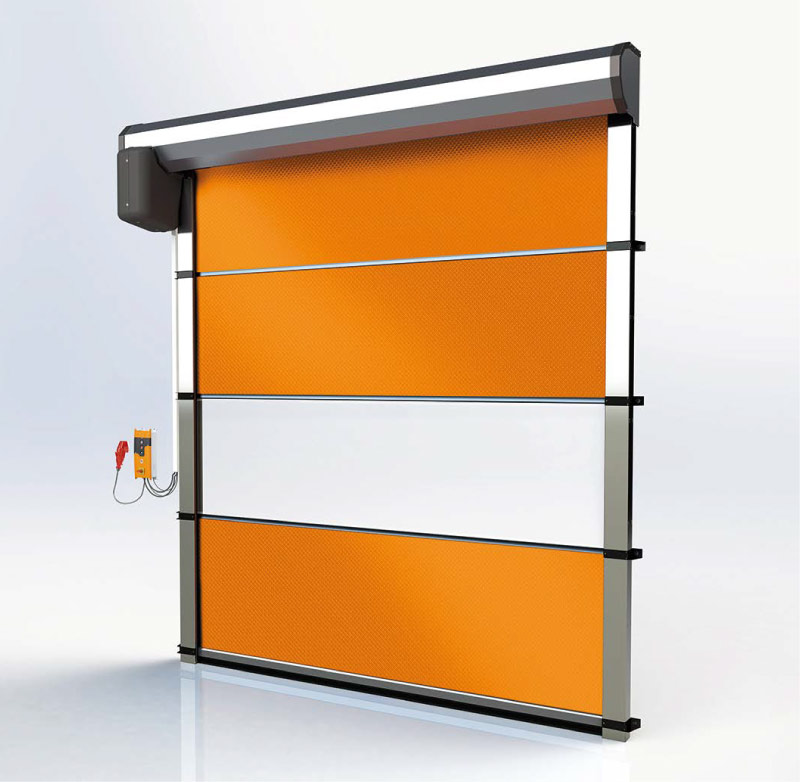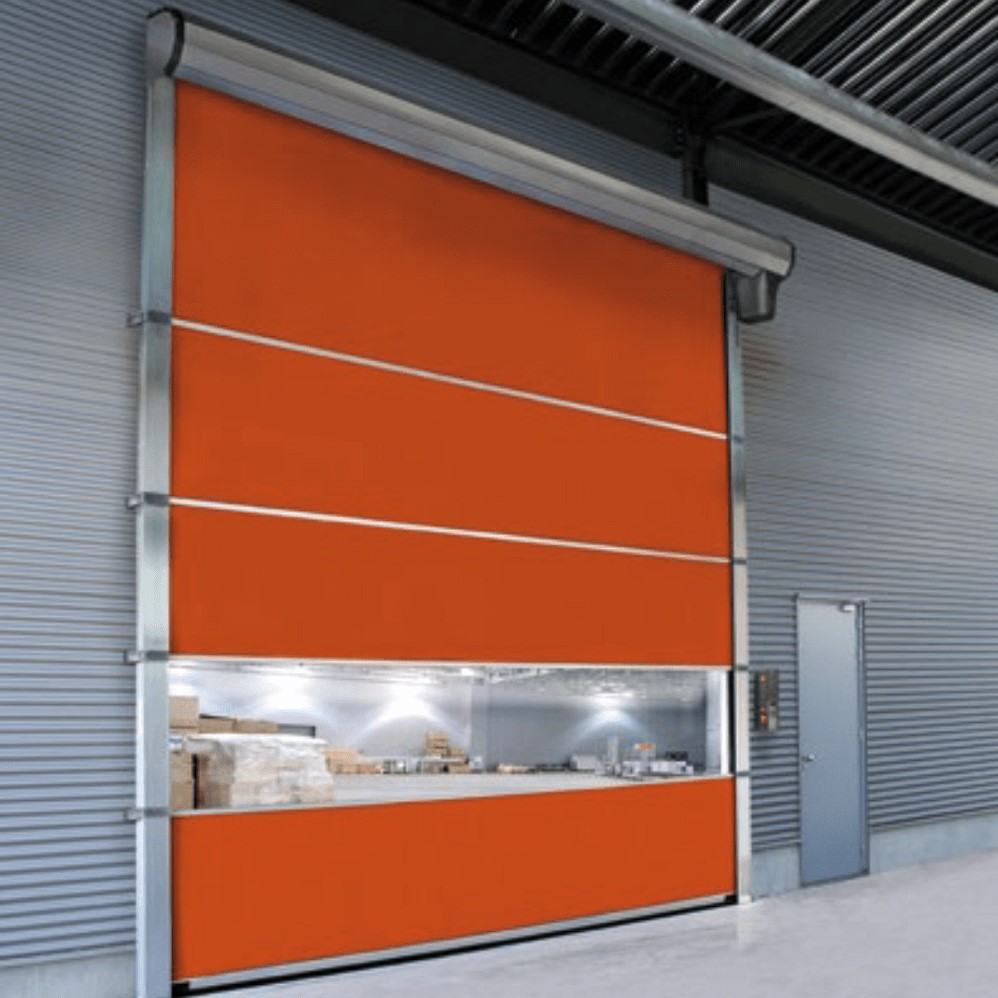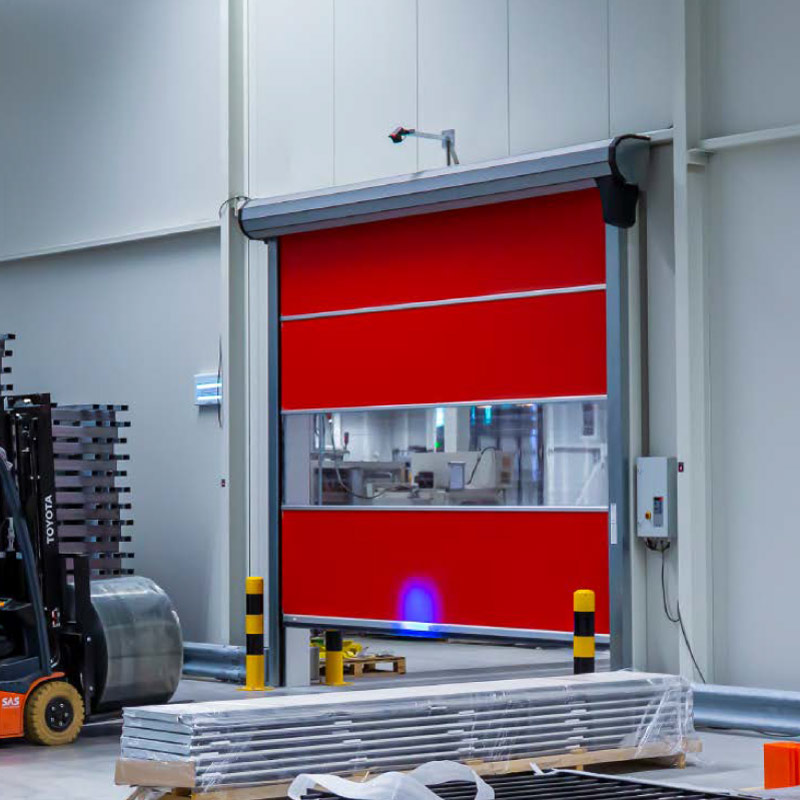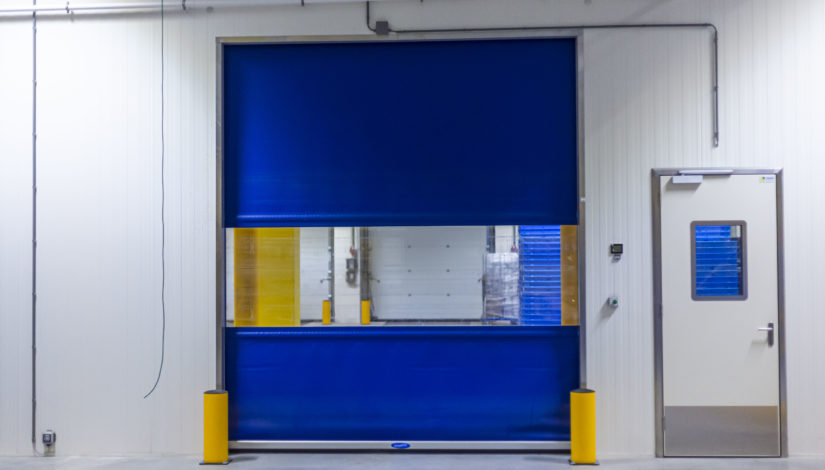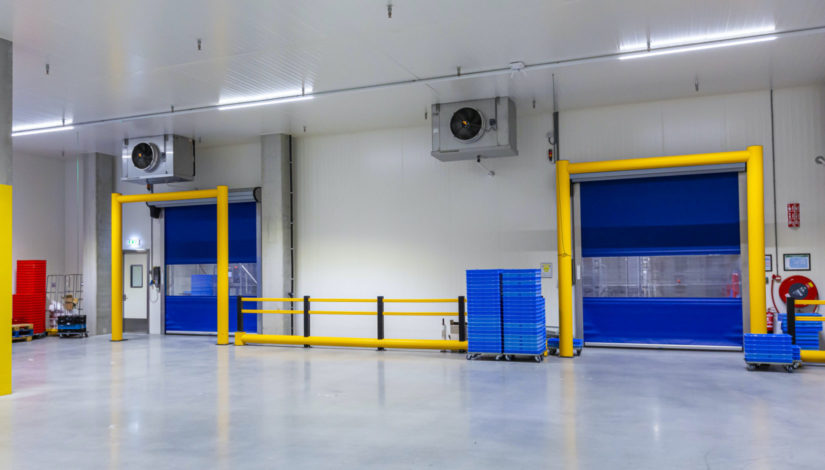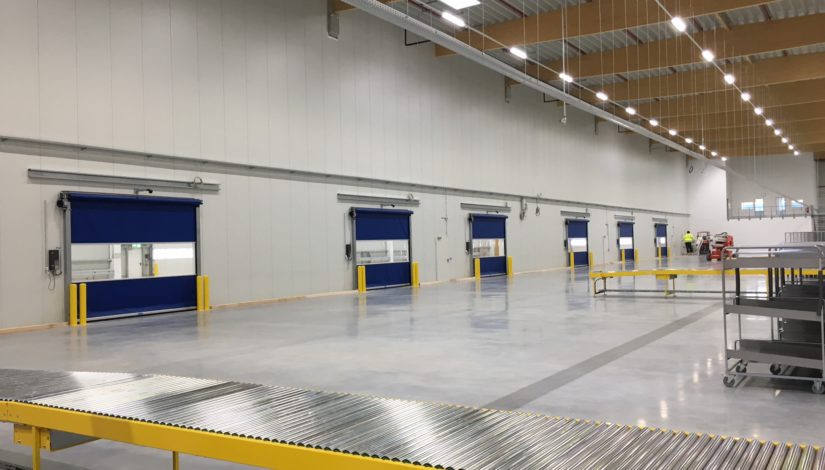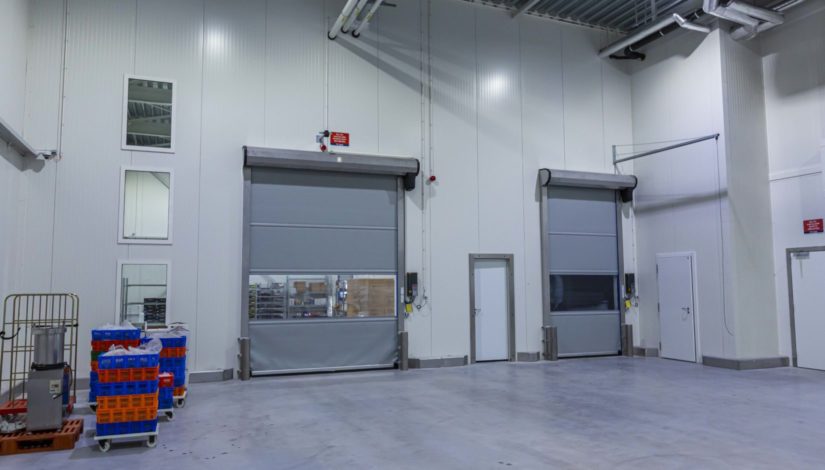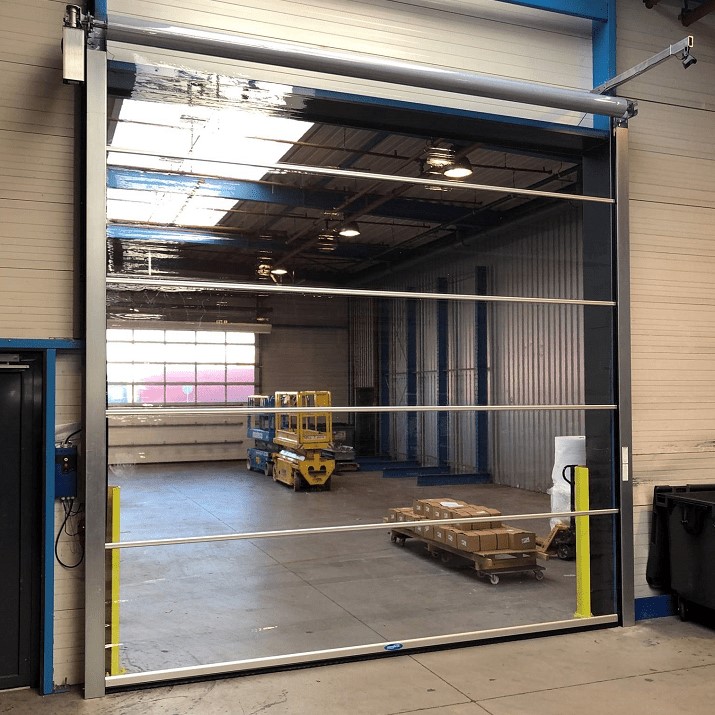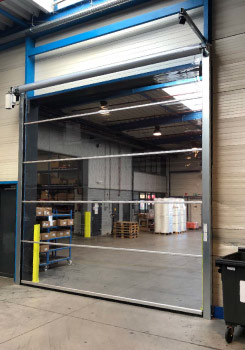 Iekštelpu vārti
Atvēršanas ātrums: 1,0 m/s (maks. 1,8 m/s)
Vārtu materiāls: PVC
Materiāla biezums: 0,7 mm (1,2 mm)
Vēja pretestības klase (EN12424): 2
Maksimālais Plat. x Augst.: 5000 x 5000 mm
Strāvas pieslēgums: 3 x 400V (1 x 230V)
Iebūvēta caurspīdīga loga sekcija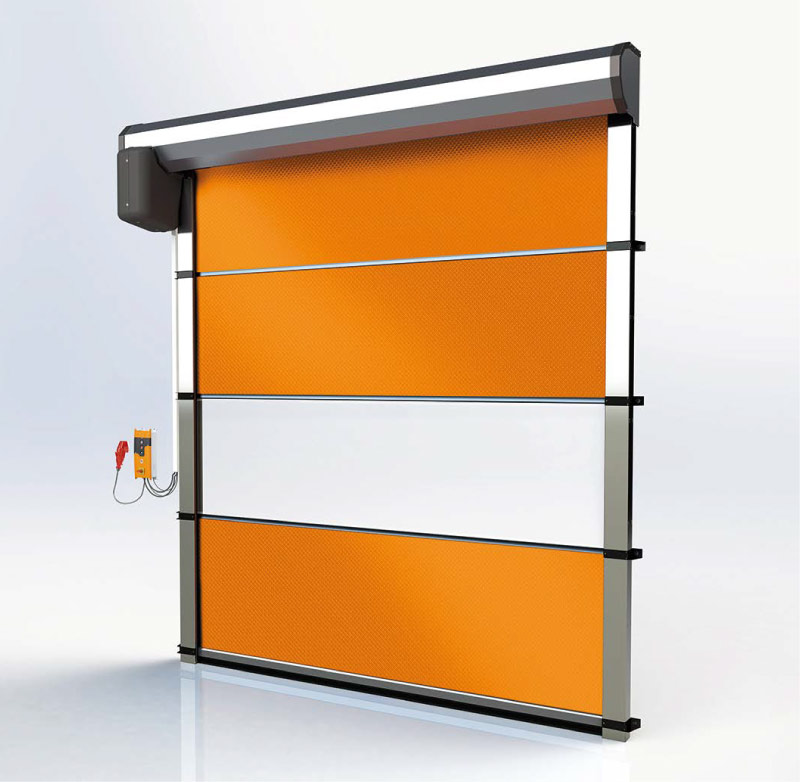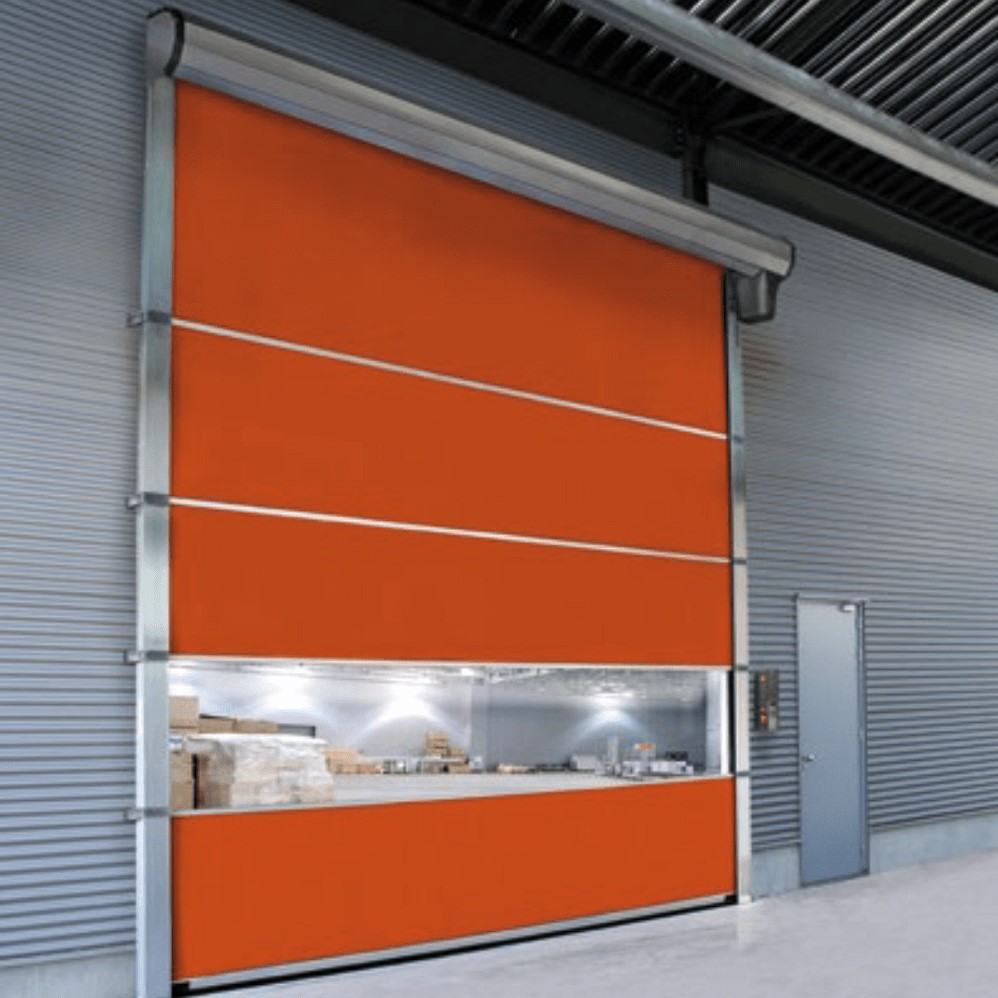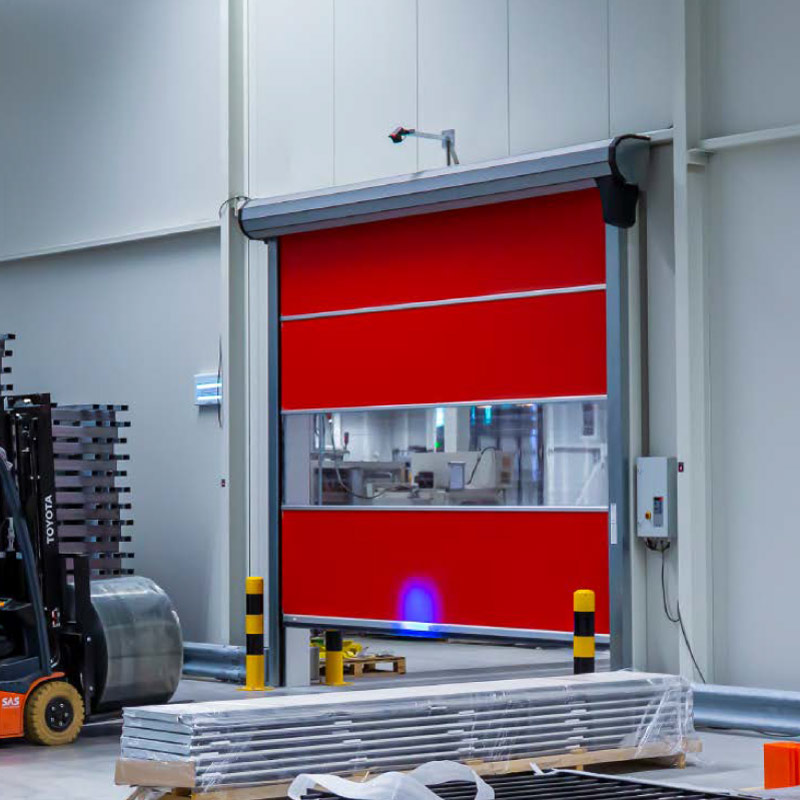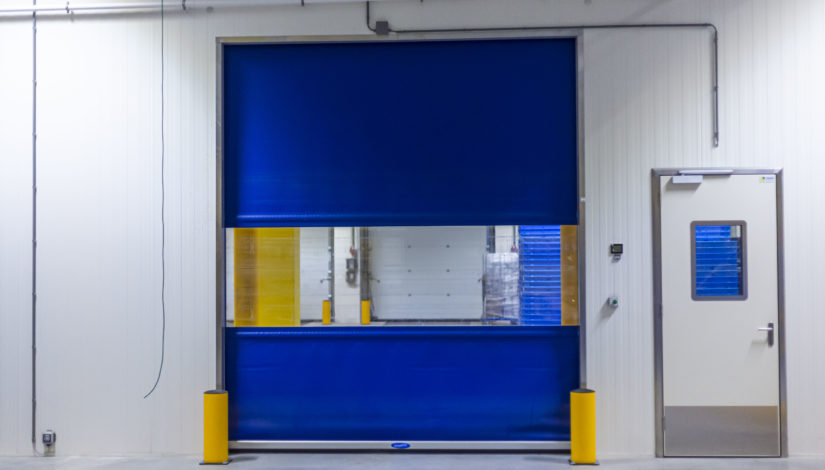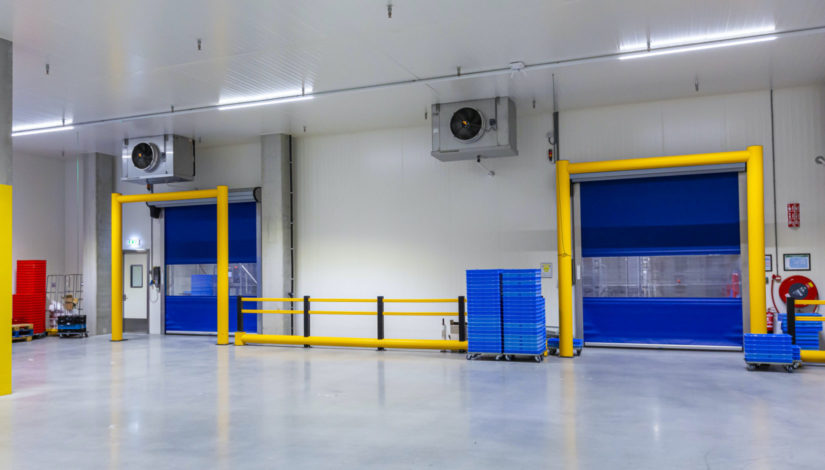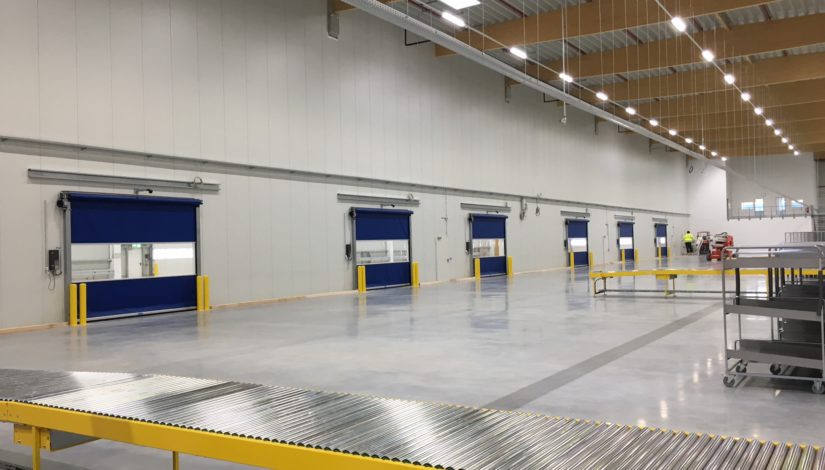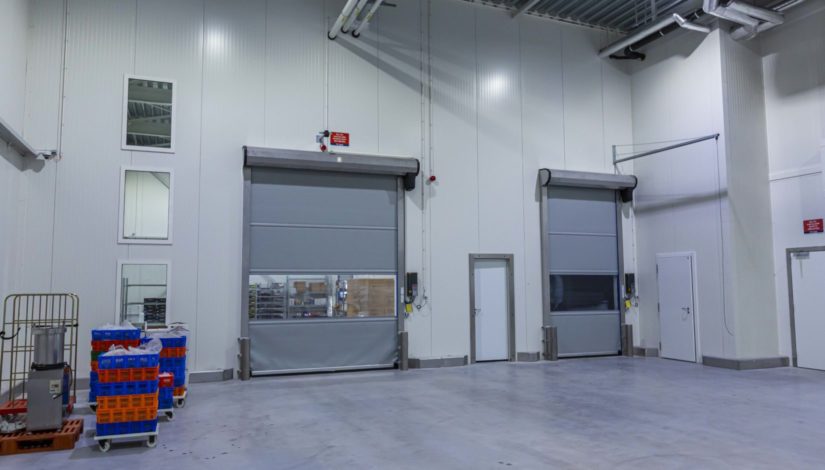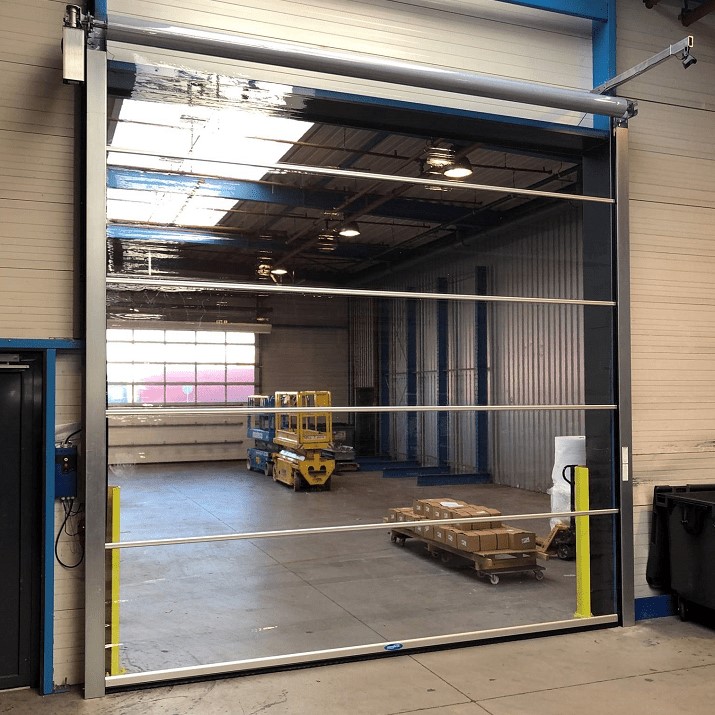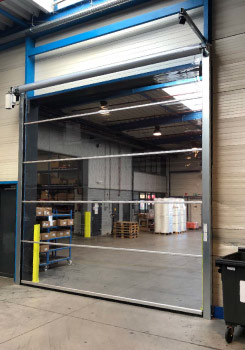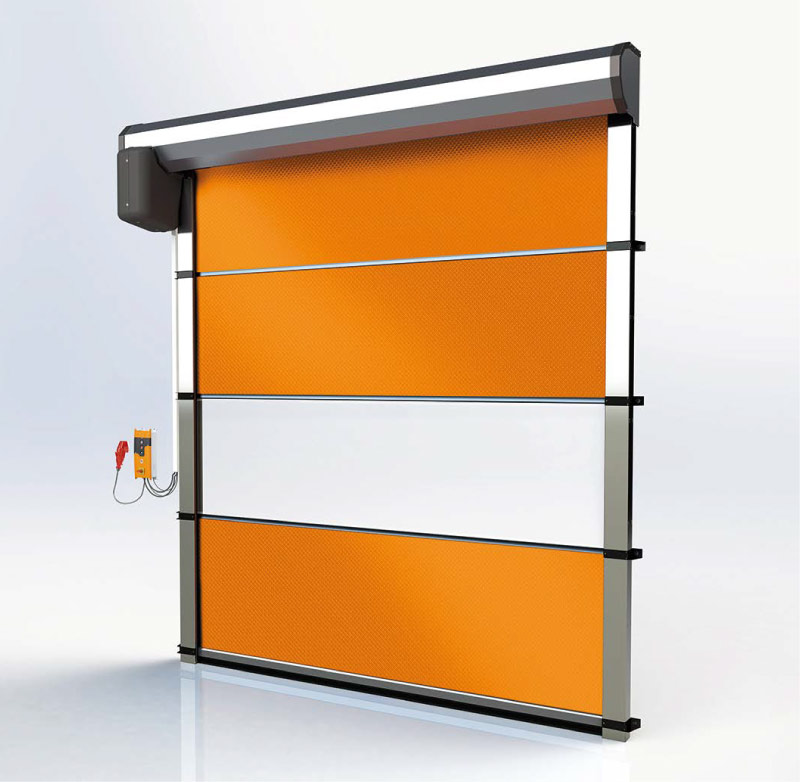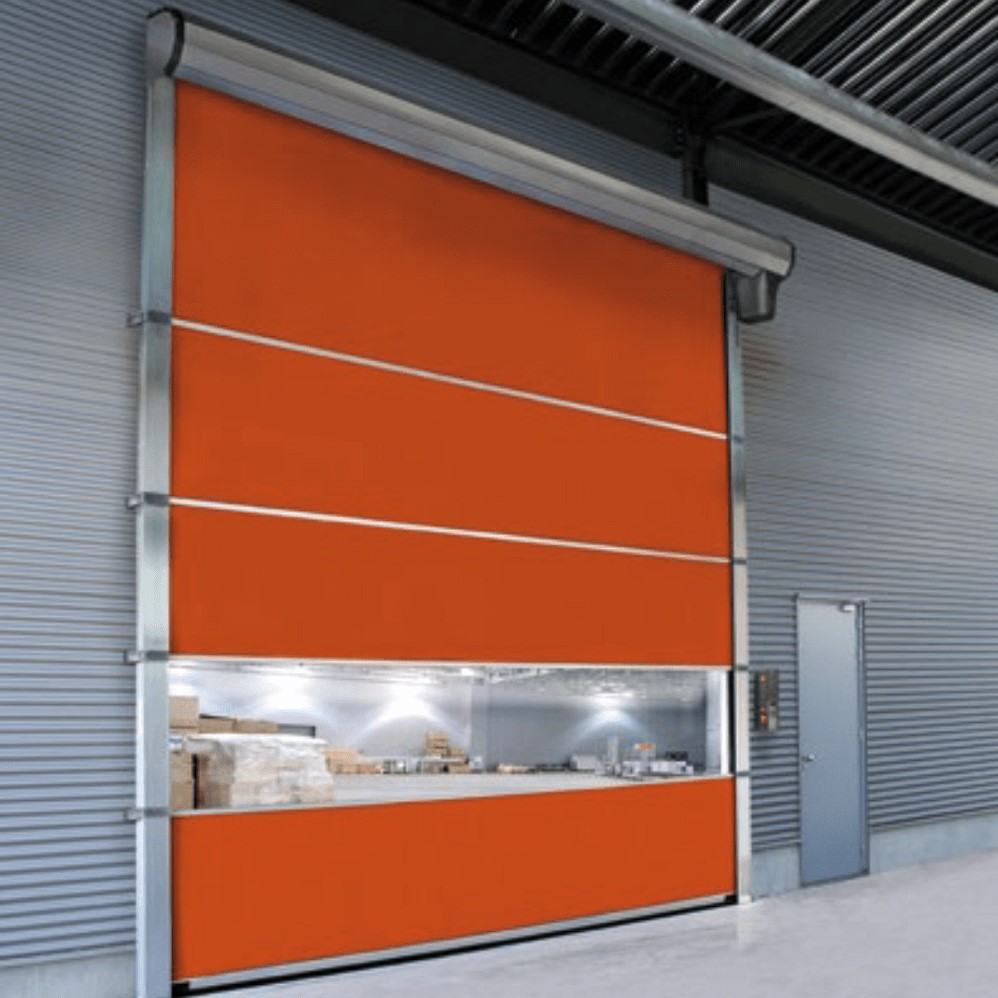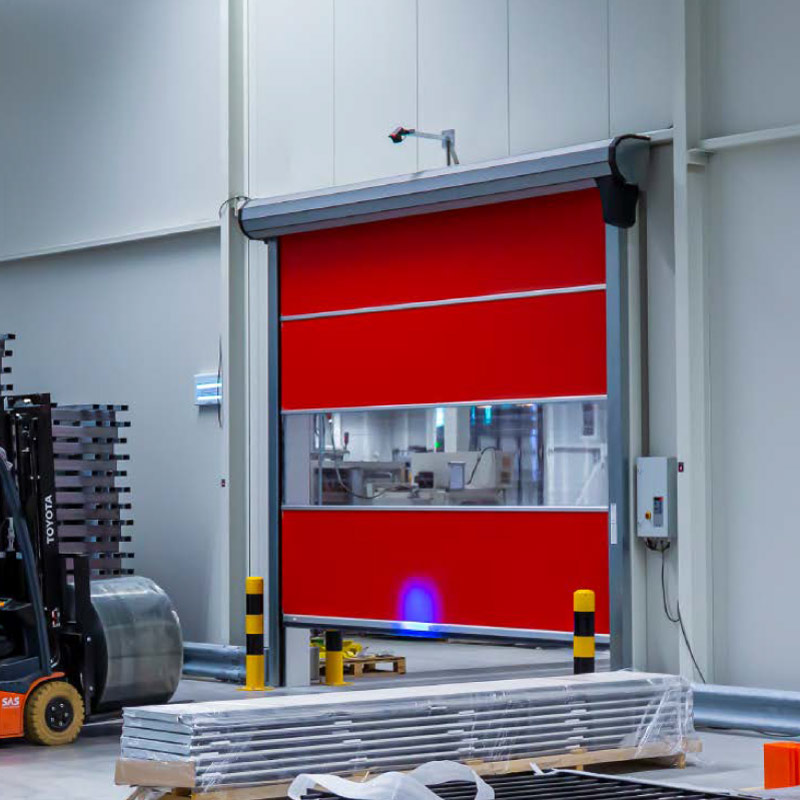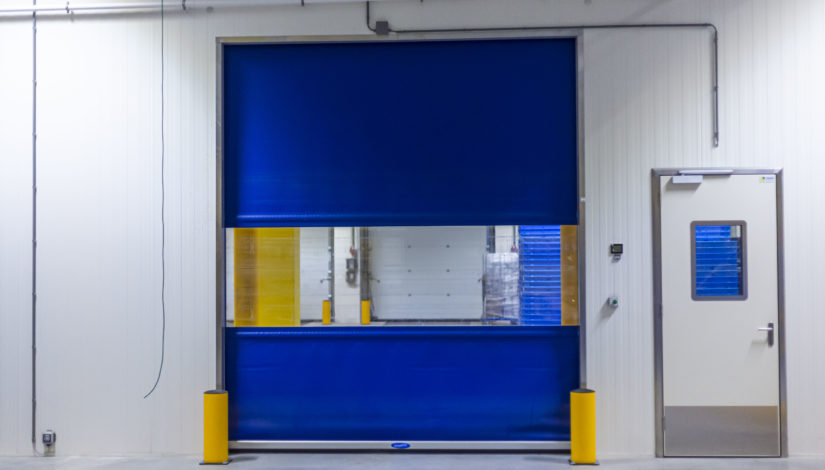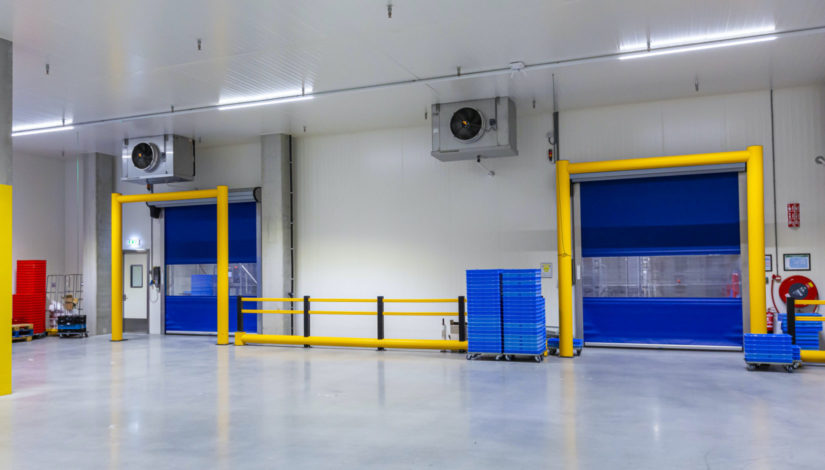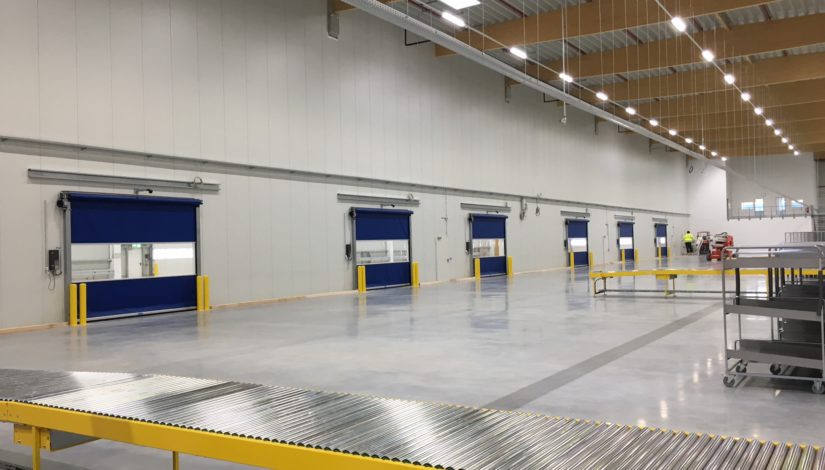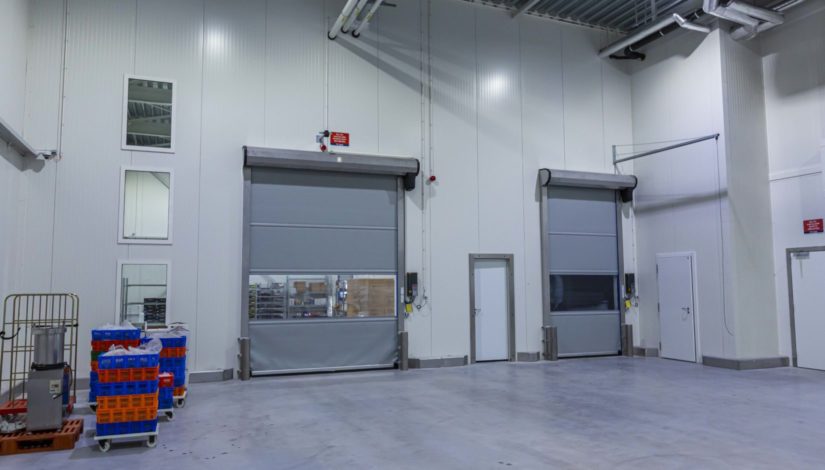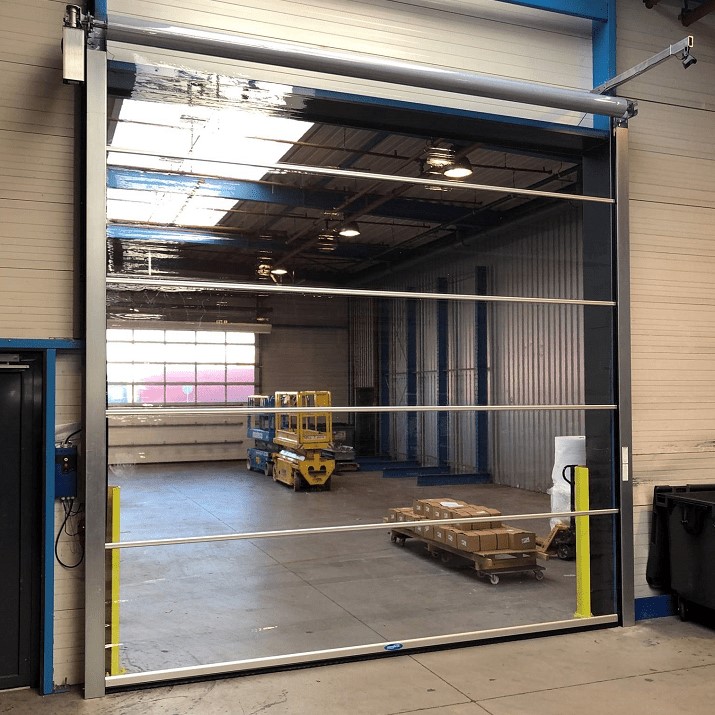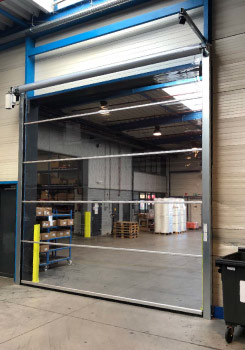 ---
---
High-speed and intensive use for interior
---
Door RIPO Speed is the high speed roller door model for intensive use indoors. The door curtain is made of horizontal sections of extremely durable polyesterreinforced PVC. The reinforcing profiles provide additional stability. The opening speed till 1.8 m/s makes this door practical, even for heavy traffic and large passages. As standard, one transparent section window at eye level for safety and traffic visibility. Proven technology guarantees many years of trouble-free operation.
Application
Designed for use in general industry and commercial buildings. Ideal for large production processes that run quickly and where breakdowns are not allowed to occur. Ideal for the fast passage of people and goods, also in situations with high wind pressure. Applicable for openings up to 25 m2.
Light to heavy industry
Workshops with heavy traffic from both directions
Situations where high visibility is required
Drive-through areas
RIPO Speed door Benefits:
Maximum reliability
All aspects of the door are robustly designed and well-engineered for every day energy saving, draught exclusion and climate control. The reinforcing profiles provide additional stability. Reinforcement brackets makes door even sturdier and more stable in case of sudden draught.
Fast
Opening and closing fast, and doing so very often, is the strength. The opening speed till 1.8 m/s makes this door practical even for heavy traffic and large passages.
Wind resistant
Class 2 according to EN12424 (up to 3,000 mm wide).
Safe
Equipped with a safety light curtain as standard. Soft FlexEdge bottom beam as option.
Application examples:
In warehouses heating and/or air-cleaning systems can create a difference in air pressure with the adjacent warehouse or with outside. Every door in the warehouse must be able to withstand the enormous wind load that can occur when all the accumulated air pressure from the entire warehouse is forced through the relatively small door opening. A solid sectional door can withstand this wind load but opens and closes slowly. As a result, you lose a lot of heat, create a strong draught and hold up your production process unnecessarily. The highspeed door Speed is ideal in this situation!
Logistics service providers operate most efficiently if all traffic between the various halls runs smoothly and quickly. By using the right controls, you can determine exactly who can and cannot pass through which door. The traffic then not only runs quickly, but also in a highly structured manner. This enables you to precisely control the logistical flows within your buildings, which in turn makes even greater efficiency possible.
The food industry needs doors that are fast, reliable and hygienic. The highspeed door RIPO Speed is perfect for this situation: Fast with the optional Frequency Control. Reliable due to the solid base construction with additional reinforcement profiles. Hygienic with the optional stainless steel columns, shielded hinges and mould-resistant seals.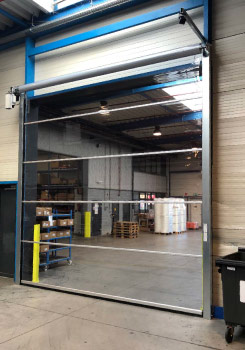 Transparent modification for great visibility
As optional modification of RIPO Speed door available fully transparent set of material. Ideal for passages that are frequently used from several directions. It is immediately obvious when someone is coming from the other side of the door, so accidents caused by poor visibility are prevented. Ideal solution also for Drive-through areas, where visitors are waiting for service or goods and you give them chance to see your premises and actions behind the door.
RIPO doors set
All types of RIPO fast doors are equipped with Drive and Control unit. Door main components as standard accessories and optional features:
Door Speed Standard equipment contains:
HardEdge bottom beam for Stability and Wind resistance.
Safety light curtain. Securing the passageway up to 2.5m high.
Tested and approved BS EN13241:2003+A2:2016 compliant, which assures, you are guaranteed safe operation during daily use, assembly and maintenance.
Optional:
Frequency control - Rapid control with soft start/stop function.
FlexEdge bottom beam. Added safety for personnell and goods.
Stainless steel columns. Easy to clean and never rust. Recommended for industries with hygienic requirements.
Reinforcement brackets. Presence of additional brackets increases the maximum wind resistance to Class 2, according EN12424.
EasyRepair. Additional equipment to repair the door without tools / assistance.
Fully transparent door material for maximum visibility.
Additional covers. Cover over roller in steel, stainless steel or plastic. Plastic cover over drive.
Additional windows. Windows made of transparent plastic or mosquito netting.
Fully transparent door. Option to choose fully transparent door material instead of solid color PVC material.
Features

Aluminium reinforcing profiles
(standard)
The Aluminium reinforcing profiles between section provide additional stability and are part of standard product set-up.

FlexEdge bottom beam
(optional)
The bottom of the door curtain has a solid HardEdge bottom beam, however, a flexible FlexEdge bottom beam is available as an option. FlexEdge is soft and flexible bottom beam of the door curtain, and it is recommended if your goods are fragile. When closing a fast door in relatively in low openings, contact may occur between the bottom beam and the goods being transported. A hard bottom beam might cause damage. The FlexEdge is flexible and soft, thereby increasing safety. Persons or goods that 'accidentally' come into contact with the FlexEdge will suffer little or no damage.

Reinforcement brackets
(optional)
Door optionally can be equipped with Reinforcement brackets. These Brackets additionally strengthen the frame and protect the door in places, where there is strong wind. Presence of these additional Reinforcement brackets increases the maximum door wind resistance performance from Class 1 to Class 2, according EN12424 measurements.
Controls
Following types of door controls compatible to the speed doors and ensures Operation or Safety or both functions.

Push-buttons
Operation
Pushbuttons are mainly used in personnel traffic. For situations where one's hands are not always free, a mushroom push button or a contactless ClearWave button is a solution.

Pull switch
Operation
The pull switch has a long cable hanging a few metres in front of the door. It can be operated on foot or from a forklift truck without the driver having to get out. Very efficient when there is a lot of forklift traffic.

Remote control
Operation
A remote control (with transmitter and receiver) offers the possibility of selective operation. Only those persons and vehicles that have a remote control can operate the door. Available with one or several channels.

Contact-less switch
Operation
The non-contact door switch ClearWave is similar to an ordinary push button, with the difference that it does not need to be actually touched. Ideal in food environments or clean rooms.

Infrared sensor
Operation and Safety
The sensor Ixio-S is a smart presence detector with active infrared technology. The three-dimensional infrared curtain protects persons from contact with the door or can be used door opening. For indoor applications up to H = 3,500 mm.

Dual sensor
Operation and Safety
The Ixio-D is a sensor for opening door. It combines radar technology with infrared technology for the protection of people against contact with the door. Indoor use up to H = 3,500 mm.

Metal detector
Operation and Safety
Every metal object within this field is detected. An induction loop detector produces a magnetic field. Suitable as a control, but also as an extra security in case of high speed forklift transport.

Motion detector
Operation and Safety
Radars can only detect moving objects. The radar has a conical detection area and is direction-sensitive. The size, direction and sensitivity of the radar field are adjustable. Also for outdoor use.

Dual detecor
Operation and Safety
The Condor has a microwave motion detector and an active infrared presence sensor for detecting stationary objects built in the same device. Also suitable for outdoor use.

Photocell sensor
Safety
Photocell sensor are mainly used to monitor the door opening. The door will not close when the photocell beam is interrupted. Designs with a reflector and with a transmitter and receiver are available.

Light curtain
Safety
A light curtain has a larger detection range and thus provides greater safety than a photocell. This form of detection is particularly suitable for a wide range of transport sizes.

Laserscanner
Safety
The Laserscanner LZRR-i100® features high-precision technology: the dynamic direction of the laser beams on four levels provides optimum protection of the door threshold and surroundings. Maximum detection area 9.9 m x 9.9 m.
For RIPO Speed door available the following RAL colours as standard:
1003
2004
3020
5002
7024
7038
9003
9004
Optionally available with 1.2 mm door curtain in the RAL colours:
1023
2004
3020
5002
7038
9003
9004
Fast door RIPO Speed door dimensions and installation requirements.
Fast doors RIPO Speed door in action: