---
---
RIPO service phone number +371 22 00 44 31
Professional level technical service and service solutions
Qualified and operational assistance
RIPO masters are experienced and knowledgeable in gate installation and maintenance, therefore we pay great attention to customer needs.
We always recommend the best solutions so that the gates we produce last a long time and work flawlessly. We react quickly if necessary gate repair, and we advise if technical issues arise.
Full cycle technical support
We offer full technical service and concluding a service contract in order to solve any problems quickly and the equipment to work smoothly without stopping. Maintenance, repair, fault diagnosis and repair, moving parts of the gate (springs, rollers, guides, hinges, rails, gaskets, etc. c. components) lubrication and adjustment, fastening and spring tightening / adjustment, programming and software diagnostics.
Individual approach and fast service
Quality service
Professional team
Trips and service throughout Latvia
More than 25 years of experience in the market
We install, repair and perform service and warranty maintenance throughout the territory of Latvia:
Private house garage gates;
Area gates (hinged, sliding);
Industrial sectional doors;
High speed gates;
Loading systems;
Barriers;
For all types of automatics, regardless of the manufacturer.
SIA "RIPO International Ltd." servisa pakalpojumu cenu lapa ir spēkā no 2019. gada 1. janvāra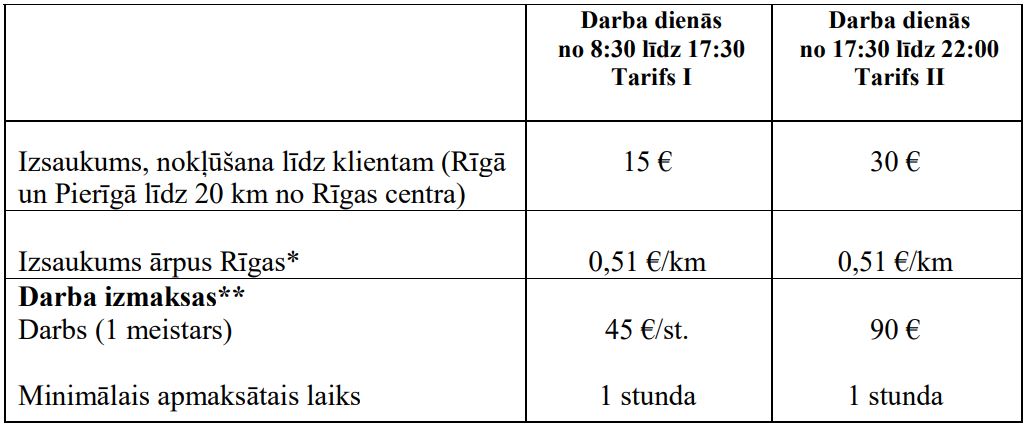 * Prices are without VAT!
** Ceļa izdevumi tiek aprēķināti abiem virzieniem (turp un atpakaļ kilometru summa), cenā ir iekļautas degvielas izmaksas un patērētais laiks vienam meistaram.
*** Ja darbs jāveic diviem vai vairāk meistariem, tad stundas likme tiek reizināta ar kopējo meistaru skaitu.
Izbraucot pie klienta:
− minimālais apmaksātais laiks ir viena stunda, neatkarīgi no patērētā laika,
− katrai nākamajai stundai darba laiks tiek uzskaitīts ar pusstundas precizitāti.
Remontējot uz vietas Ripo ražotnē: meistara darba laiks tiek aprēķināts ik pa 30min.
Steidzams izsaukums: Steidzamu izsaukumu gadījumā tiek piemērots Tarifs II.
Garantijas remonts: Meistara izbraukuma gadījumā pie klienta detaļu nomaiņa un darbs nav jāapmaksā, ja tiek atzīts Garantijas gadījums.
Ievērībai!
Vietās, kur nav iespējams novietot auto bezmaksas stāvvietā, tuvākās stāvvietas cenas tiks pieskaitīta rēķinam. Vietās, kur piekļūšanai nepieciešamas maksas iebraukšanas atļaujas, iebraukšanas atļaujas summa tiks pieskaitīta rēķinam.
Iekārtām, kuras tiks atvestas uz darbnīcu netīras, izjauktas un nekomplektā tiks piemērota papildus samaksa 25 EUR.
Prioritāte klientiem ar noslēgtiem apkopes līgumiem!
SIA "RIPO International Ltd." patur tiesības veikt izmaiņas cenās.