Insulated Concrete Forms – a secret formula for a modern, safe and warm home.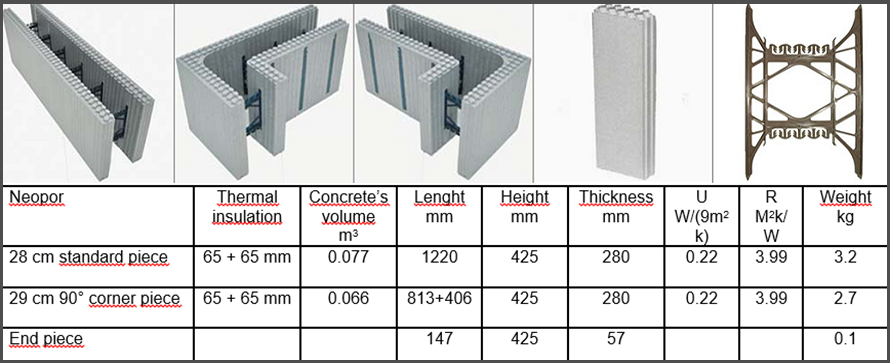 Insulated concrete forms (ICF) is a building block system used for building private and commercial buildings. An innovative wall building material is made out of unfilled, fireproof extruded polystyrene.
The block forms are perfect for easy and fast building process to build safe, heat insulating walls. The blocks have a middle section intended for monolithic concrete filling to create bearing constuction.
Insulating blocks consist of new generation thermal insulation material "Neopor"- an extruded polystyrene. The forms contain graphite, providing an even better insulation and sun protection that any other building material.

Fast and easy
ICF's is a simplest and sast way to build in short terms and at lower costs. Unfilled forms are very lightweight and easy to use.
The communication cables can be simply cut with a knife or cut with a hand saw.
Year-round comfort
Modens forms provide 15% more heat insulation during winter months. With optimal optimal breathability, the house will
"breathe" and avoid moss formation. Fireproof blocks have an outstanding sound isolation and direct sunlight effect protection.
Green and safe
The ICF's do not contain gaseous and harmful substances, including chlorofluorocarbon and formaldehyde/ using fewer
and more natural materials,you can create a safe environment for allergic people.
Quality and longetivity
Blocks are extremely durable, withstanding even the strongest winds, floods and cold for many years to come.
Vapor permeable, water proof, and low moisture absorbent forms do not loose their shape or effectiveness.
Build even in winter
ICF's are an excellent building material of today and tomorrow and meet all construction requirements.
Thanks to the fast building process and it's materials, you can build even at -20 ºC degree cold winter!
Contact us for more information.